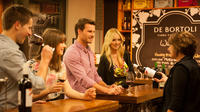 63 €
L'activité n'est pas disponible, essayez une autre recherche !
Yarra Valley Wine and Wildlife Self-Driving Tour Including De Bortoli Winery and Healesville Sanctuary
Experience this self-drive Yarra Valley wine and wildlife day tour as you explore what there is to offer in the Yarra Valley in your own time. Start your day at Healesville Sanctuary with a personal guide followed by a visit to the De Bortoli winery where you will indulge in a two-course lunch, taste climate wines and finish up with chocolate tastings at the Yarra Valley Chocolaterie and Ice Creamery.
Enjoy this self-drive Yarra Valley wine and wildlife tour.

Healesville Sanctuary, De Bortoli Wines and the Yarra Valley Chocolaterie & Ice Creamery have created the perfect Yarra Valley day
out.

10.30am – 12.30pm:
Your wine and wildlife package begins at Healesville Sanctuary where a personal guide will take you on an informative and interactive tour of Australia's unique and endangered wildlife.

1.00pm:
From Healesville Sanctuary, a leisurely 20 minute drive through the picturesque Yarra Valley will bring you to De Bortoli Yarra Valley
Estate. Enjoy the warm hospitality of this family owned winery, savouring a two course lunch. After lunch, spend some time tasting cool climate wines at the cellar door. Complete your day with a short 5 minute drive to the Yarra Valley Chocolaterie and Ice Creamery. In the stunning showroom indulge in abundant free chocolate tastings and choose from over 250 handcrafted chocolate products with you 10% discount voucher.

This self-drive package is perfect for a day-trip to the Yarra Valley or for visitors staying overnight.