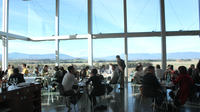 139 €
Yarra Valley Food and Wine Day Trip from Melbourne Including Lunch at Yering Station
Located an hour from Melbourne and known internationally as a quality producer of chardonnay, pinot noir and sparkling wines, the Yarra Valley enjoys the highest profile of any Victorian wine region. With this small group tour, take the scenic route from Melbourne that travels through bushland, vineyards and farmland. The 5 vineyards that are visited are a mix of small, medium and large producers who provide a great overview of what the Valley does best. Enhancing the day is an excellent a la carte lunch at Yering Station, some wonderful cheeses at De Bortoli and a glass of sparkling at Domaine Chandon.
Travel to the north-east through the bush laden suburbs of Templestowe, Warrandyte and Wonga Park to the Coldstream Hills Winery at Coldstream. Established by James Halliday, one of Australia's leading authors and commentators on wine, the wines are beautifully crafted and have enjoyed success at numerous wine shows, especially the chardonnay and pinot noir.

It's then a short drive to the charming Medhurst Vineyard. Established in 1999, the family owned vineyard of 35 acres has a delightful elevation in the foothills of the Warramate Ranges and produces a small selection of elegant table wines.

Visit the very famous and very French Domaine Chandon. Enjoy a tour of the production facilities before settling down to a glass of premium sparkling wine (methode champenoise) while taking in the glorious vista.

It's then on Yering Station for lunch in their stunning Wine Bar Restaurant. With its world class views and cuisine, you'll have a full a la carte selection from which to select your main course meal and glass of wine. After lunch, visit the original winery (circa 1859) that features local artworks and produce as well as estate wines to taste.

The final stop for the day is the De Bortoli Winery at Dixons Creek. As Italian as Domaine Chandon is French, it's a great end to the day with superbly flavoured cheeses that compliment the sparkling, table and dessert wines.

Our journey home takes us through Steels Creek and Christmas Hills for superb Valley views and the occasional kangaroo.