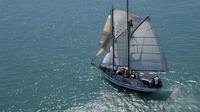 947 €
Whitsundays Private Sailing Charter
Charter your own sailboat in the Whitsunday Islands for up to 24 guests with this private tour that gives you a choice from three day sail options and one sunset option. Set off across Whitsunday Passage in the footsteps of Captain Cook, and catch the breeze on a 62-foot (19-meter) gaff-rigged schooner, aka a tall ship. Your tailored charter includes a spot for snorkeling and either a visit to Whitehaven Beach, famous for its bright white sand, or to Langford Reef where you have a good chance of swimming with turtles.
Arrive at Abell Point Marina in Airlie Beach in the morning to meet the crew of your private sailing charter. You can get involved by helping to set the mainsail or take a turn at the helm, or simply chill out on the deck of the Providence V, your schooner modeled after the Bluenose, a historical boat that competed in the America's Cup race.

Morning tea (coffee and tea from a local bakery) is served on board while you relax on deck and watch the sails catch the breeze. Sail away from the marina and into Whitsunday Passage, enjoying the fresh air and admiring the tropical island scenery. 

Lunch is provided and will be served on Whitehaven Beach (weather permitting), known for its clear waters and pristine silica sand that stretches more than 4 miles (7 km) along Whitsunday Island, the largest of the 74 islands in the Whitsundays. Alternatively, you'll have lunch on Langford Spit, if that's the tour option you select when booking.

Then leave Whitehaven or Langford, and head to your snorkeling location where you have the opportunity to swim with turtles, fish, and coral. Back on board, nibble on tropical fruit and something sweet while relaxing under the sails as they catch the breeze during the cruise back to the marina, where your private charter ends.

When booking, you also have the option to select a sunset sail instead of a day sail, as well as a 5-hour half-day option instead of the 8-hour tour, if you prefer. This private sailing tour is suitable for lots of groups, from family get-togethers and weddings to corporate team-building events. The cruise is fully licensed, so you can purchase beverages on board, or you have the option to bring your own drinks for a corkage fee.