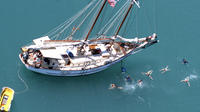 102 €
L'activité n'est pas disponible, essayez une autre recherche !
Whitsundays Day Sail Blue Pearl and Langford Reef
Join a tallship snorkel and sailing cruise in the Whitsundays. Help set the sails, take a turn at the helm or chill on the deck of Providence V, a 62-foot gaff rigged schooner modelled on an American bluenose, the first boats to compete in the America's Cup. Morning tea is served on board before heading to Blue Pearl one of the Whitsunday's best snorkeling spots. Lunch is provided. Then sail to Langford Reef -- Robinson Crusoe's own desert island where you'll step ashore for relaxation under our beach umbrellas and the opportunity to swim with the turtles and snorkel off the beach. Spot the turtles as they eat their own jellyfish lunch. After a leisurely time on the beach and a walk along the sandspit, sail back across the Whitsunday Passage. Nibble on some tropical fruit and something sweet while relaxing under the sails as they catch the breeze as you head homeward.
At 7.45am meet your crew outside the Kiosk Cafe in the northern marina at Abell Point marina. One of the friendly crew will escort you to the boat.

Set sail across the Whitsunday Passage. Help set the sails. Learn how to belay a cleat; sweat the mainsail on our tallship or just chill on deck and watch the sails fill in the breeze.

A delicious locally prepared morning tea is served on deck before arriving Langford Reef for snorkeling and a stroll along the beach.
Relax in the shade of your own desert island and have lunch on the beach. Chilled water is provided and ice cold drinks are available to purchase.

Return to the tallship and depart under sail on the return trip to Abell Point Marina. Why not indulge in a drink from the licenced bar (at own expense) while you nibble on a fruit platter and try something sweet on the way back home. Arrive back at Abell Point Marina at approximately 4pm after an awesome day of sailing.