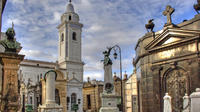 59 €
Walking Tour Buenos Aires: Recoleta
This walking tour of the Recoleta will show you everything you need to know about Buenos Aires most aristocratic neighbourhood, one with french style buildings and sumptuos facades to remind you at every corner that you are in the "Paris of South America". 
Pay atention to the art around you as you walk by the Palaces that have become embassies of different countries.
Meet your tour guide ten minutes before the tour starts right in front of the Recoleta Cementery where your tour will start. After a short explanation of the area you will get to visit each of the secrets that mini-marble city has to tell you about the Buenos Aires aristocracy and where the former first lady Eva Perón was laid to rest on an ornate crypt.
After a 45 minute visit to the cemetary we will start a walk to marvel at the incredible structure of the Law University and start appreciating the parks that hold secrets like Floralis Generica.
After that you will keep on heading north of the city to enjoy the view of the great architectural art of the area that encloses all the Belle Epoque touches in every palace you see which, by the way, is where most of the embassies of the country are located.
The tour will end at the Malba Museum.