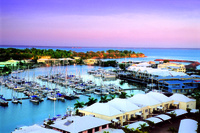 64 €
Visite touristique de la ville Darwin avec option croisière au coucher du soleil
Visitez les sites touristiques de Darwin lors d'une visite guidée des points de vue et attractions de la ville. Vous aurez également la possibilité de terminer la journée par un dîner-croisière au coucher du soleil avec fish and chips.
Passez la journée à explorer Darwin au cours de cette excursion complète de la ville. La visite guidée vous emmènera au temple chinois et dans les jardins botaniques pour une promenade parmi les orchidées et cycadales. Vous visiterez les sites historiques tels que le East Point, et des centres d'art contemporain comme le Stokes Hill Wharf. Vous pourrez également visiter le musée et la galerie d'art du Territoire du Nord, et admirer sa collection de l'art aborigène et son histoire.

Pour terminer cette journée particulière à Darwin, optez pour un surclassement pour prendre part à une croisière au coucher du soleil d'une heure et demie dans le port Darwin. Profitez d'un dîner de fish and chips accompagné d'un verre de champagne.