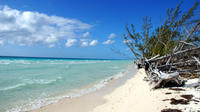 140 €
L'activité n'est pas disponible, essayez une autre recherche !
Visite touristique de l'île East End au départ de Freeport
Profitez d'une des plus belles plages des Bahamas. Visitez le parc national de Lucaya qui possède l'une des réseaux de grottes sous-marines les plus explorés et cartographiés du monde. En outre, vous visiterez plusieurs établissements autochtones, chacun avec ses propres sites uniques et ses expériences culturelles. À « Ol Freetown Farm », vous en apprendrez plus sur les fruits, légumes et animaux indigènes des Bahamas. Visitez High Rock, site du célèbre phare de High Rock.
Profitez d'une visite touristique de Port Lucaya et visitez les différentes attractions y compris des restaurants, bars, casinos, magasins et divertissements en soirée. Vous disposerez de 10 à 15 minutes pour explorer. Ensuite, vous effectuerez une visite du parc public de la plage Taino à Smith's Point, berceau du célèbre poisson frit, et de la baie du sanctuaire des dauphins. Vous y passerez entre 20 à 30 minutes. Vous ferez ensuite une courte visite de 10 minutes de Millionaire's Row le long de la rive sud, en observant toutes les propriétés exclusives.

Le prochain arrêt se fera à Garden of the Groves, où vous pourrez passer 30 à 45 minutes (en option, non inclus dans le prix). Ensuite, vous visiterez Ol' Freetown Farm, où vous pourrez profiter de jus de fruits fraîchement pressés au sucre de canne, visiter la ferme et découvrir les animaux. Ensuite, vous vous arrêterez au parc national de Lucaya où vous pourrez visiter les grottes, prendre un pique-nique et vous détendre sur la plage à Gold Rock Beach. Vous disposerez de deux heures et demie à trois heures et demie. Enfin, vous vous arrêterez à High Rock, où vous longerez la route côtière en observant les demeures, visiterez le célèbre phare de High Rock et vous détendrez au célèbre Bishop's Restaurant & Bar sur la plage.