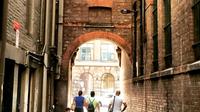 31 €
Visite pédestre des petites allées de Sydney
Explorez les allées cachées de Sydney lors de cette visite à pied de 2 à 3 heures. Découvrez l'histoire de Sydney en vous aventurant dans les petites rues des banlieues populaires de Sydney et admirez certaines icônes de Sydney, dont le quartier des Rocks, le Sydney Harbour Bridge et l'Opéra de Sydney.
Découvrez le passé historique de Sydney tout en admirant ses principaux sites au cours de cette visite intéressante, drôle et passionnante, de 2 à 3 heures. Explorez les secrets cachés de Sydney tandis que vous découvrez plus de 200 ans d'histoire dans cette ville pittoresque.

Commencez votre visite sur Pitt Street et dirigez-vous vers Phillip Lane. Créée dans les années 1840, Philipp Lane est aujourd'hui l'une des dernières allées construites pour desservir les maisons de la Macquarie Street. Sirotez une boisson non alcoolisée tout en apprenant l'histoire de cette allée, qui aurait inspiré le célèbre poème de Paterson « Clancy of the Overflow ».

Ensuite, découvrez le Tank Stream, un ruisseau d'eau douce qui se déverse dans la crique de Sydney, et qui fut créé par les condamnés pour s'assurer une source d'eau. Vous découvrirez l'histoire de cette création, qui s'écoule en silence dans une canalisation urbaine en dessous du trottoir de la rue de Tank Stream.

Poursuivez votre visite à travers des allées étroites telles que Palings Lane, une allée contemporaine et historique, avant de terminer votre visite dans le quartier des Rocks en découvrant l'histoire des ouvriers du XIXe siècle et du Sydney Harbour Bridge.