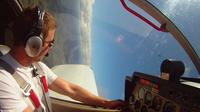 270 €
U-Fly Aerobatics Flight Experience
Treat yourself to the ultimate aerobatic flight training experience in Sydney. During this 45-minute lesson, you'll learn how to loop and roll in an aerobatic training aircraft—the Robin 2160i—during a flight with a pilot-instructor over the city. No previous flying experience is required.
Upon arrival at the Bankstown Airport, your instructor takes you to your aircraft and provides a pre-flight briefing on various aspects of your flight, including how to operate the controls and safety harness. After strapping you in, your pilot then starts the engine and taxis for take-off.

Once you're in the air, you'll be shown how to fly level, climb, turn, and descend as you make your way over the western suburbs of Sydney. In the dedicated training area, your instructor teaches you how to perform the aerobatic maneuvers of looping and rolling—like your very own roller-coaster ride controlled by you.

On the way back, you have the opportunity to discover what the Robin 2160i aerobatic trainer is really capable of as your instructor demonstrates its range with speeds up to 202 mph (325 kph) and G forces up to +6Gs. If the weather conditions are suitable, you might even have the opportunity to fly the aircraft yourself all the way to the landing.