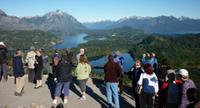 36 €
L'activité n'est pas disponible, essayez une autre recherche !
Trip to Patagonia, Bariloche and Lake District
This half day activity drives you along the area of the "short circuit", which goes around the Lake Moreno with panoramic stops and wonderful views of the Nahuel Huapi Lake, Cerro Lopez Mountain and Bahia Lopez Bay. This tour is an great introduction to the Patagonian way of life, the native forest, bird life and local flora and fauna, with an optional stop at the Campanario hill, to take a chairlift to the top and enjoy the great views of the lakes and mountains.
This is a very interesting tour to make on your first day in town because it gives you the correct information about what to expect!

This tour will give you an introduction about the Patagonia and about Argentina too! We will talk about the economy, culture, politics and exchange rates. You will have the first contact with locals and learn from them their way of living.

This is a good moment to ask all about the area, places you should not miss visiting, restaurants, special food, local artisan manufactures and where to enjoy a good steak, or the typical European plates: cheese fondue, smoked salmon, chocolate fondue, delicious lemon pies, chocolates cakes and the famous dulce de leche!