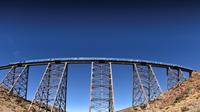 177 €
Tren a las Nubes Experience from Salta
Take a drive on the iconic Tren a las Nubes (Train to the Clouds). Experience the combination of routes by private 4x4 and train and enjoy the Andean landscapes and culture, while benefiting the local and tourist development of the regions of the Quebrada and Puna. Offering exclusive attraction, the train journey from San Antonio de los Cobres to the famous La Polvorilla viaduct is a must!

This tour includes private transportation by 4x4 vehicle from your hotel in Salta and the ticket to the Tran a las Nubes (Train to the Clouds).
A private 4x4 vehicle will pick you up from your hotel in Salta around 9 am to start the path to San Antonio de los Cobres, where the train starts its journey.
During this 3 hours trip you will be able to watch the changeable environment of Salta.

San Antonio de los Cobres is a town located 168 km away from the City of Salta and about 3,775 meters above sea level, at the foot of the Terciopelo Hill.
Arriving at 11.40, we will go to the train station and embark on the emblematic Train to the Clouds.
At 12 pm we will start the journey that we were all waiting for: the train traveling at 35km per hour allows you to contemplate, photograph and experience the beauty of nature, stillness and immensity. On board is offered bar service, postal service and merchandising to make this trip an enjoyment and an unforgettable memory.

Around 1 pm, we will arrive to the Viaduct of Polvorilla, the most recognized image of this trip. With steel structures of 223.5 meters in length, 1600 tonnes in weight, a height of 63 meters above ground level, it is the highest structure of the railway branch C-14, located more than 4200 m.s.n.m. Here we will descend from the train and we will have 30 minutes to tour the place and take incredible photos.

We will get back on the train and start the return to San Antonio de los Cobres, arriving at the station around 2:45 pm. Here we will have 1 free hour where we can tour the town and enjoy lunch (not included).

We will go back to Salta by the same route arriving at your hotel around 6 pm.