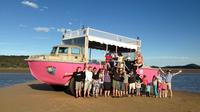 25 €
Town of 1770 Afternoon Cruise
As the sun approaches the horizon experience the delights of the Town of 1770 and the thrill of cruising in a unique amphibious vessel while taking in the magic of Round Hill Creek and Eurimbula Coastline, with its wildlife and magnificent views.
In the late afternoon light, as the sun approaches the horizon signalling the end of another beautiful day, the larc amphibious vehicle crosses Round Hill Creek and travels along the coastline of Eurimbula National Park, allowing you to watch the sky and sea transform into pastel hues and experience the peaceful solitude and changing moods of our tropical paradise.

You skipper will share the history of this fascinating area, the birthplace of Queensland, and points out some of the abundant wildlife that may be spotted along the way, such as kangaroos, dolphins, stingrays, sea eagles, pied oyster catchers, pelicans and brahminy kite, just to name a few.  This is the perfect way to experience the delights of 1770 and the thrill of traveling by unique amphibious vehicle.