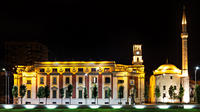 20 €
L'activité n'est pas disponible, essayez une autre recherche !
Tirana Walking Tour
Tirana, the capital of Albania, is known for diverse architecture and a contrast of lifestyle where the traditional meets the modern.
Tirana is the largest city of Albania and has something to offer for everyone.
This morning tour starts at 9.30 from the main boulevard at Skenderbeg Square. You will visit the National Theater, Skanderbeg Statue (dedicated to the National Hero), The Historic Museum, Cultural Palace, Et'hem Bey Mosque, Clock Tower and going through the Boulevard you will walk towards 'the Pyramid', built in 1988 as a museum for Enver Hoxha, dictator of the period.
After the tour you will go for a walk in the 'Bllok' area where you will see Enver Hoxha's villa, former dictator of Albania. You will enjoy a coffee break in this lively area offering a considerable number of coffee shops, restaurants and shops.