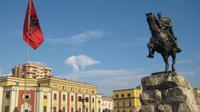 26 €
Tirana Half Day Walking Tour
Take a relaxing walk to discover the major monuments of Tirana, Albania's capital city. The best of old and new Tirana have been combined with a journey into the history of Albania.
Join this tour designed to offer you the best highlights of Tirana, combining the ancient history with the communist era and today's modern life.

Tirana, the capital of Albania is considered a relatively new city, although antique monuments and artifacts uncovered around it, testify to earlier beginnings. It  is associated with the recent face lift of its buildings, through splashes of colors in a modernistic style.

During this tour you will visit inside the National Museum , Orthodox Church and the old Mosque of 18th-century located in the center, behind the tall clock tower.

You will see the opera, home of Albania's cultural home showing national and international productions in song and dance, the National bank of Albania, the block area which is the most stylish area and was used under the Communist regime to give friends and families of the ruling party a place to live and relax.

The tour will guide you along the Boulevard Deshmoret e Kombit, Tirana's great boulevards built by the Italians. The walk takes you by the Pyramid that was build during communism times with white marble walls.  By the end of the tour you will have a short coffee break with a nice view look of the city form the top and souvenir shopping time. Tour will end in front of National Museum in the city center.