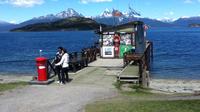 105 €
L'activité n'est pas disponible, essayez une autre recherche !
Tierra del Fuego National Park Trekking and Sailing Tour
Full day excursion in Tierra del Fuego National Park. We visit the most important points inside the Park such as; Lago Roca, Bahia Lapataia (End of the Panamerica Road), Isla Redonda, Enzenada Zarategui (Southernmost post office). The most amazing part comes when we go from Bahia Lapataia to Isla Redonda on a drift sailing all the coast of the National Park!
We leave from the hotel to Tierra del Fuego National Park. Inside it, we make a stop in Roca – Errazuriz Lake to value a surrounding of the fuegian forest and the Chile borders.

From there we go to Entre Rios Island, where we start to walk different trails until Lapataia Bay (end of National Route n° 3 and the end of roads in South America). There, a semi-rigid boat will be waiting for us and we sail from the park coast to Redonda Island. On the island we walk and we have a lunch. After lunch, we cross to Ensenada Zaratiegui Bay, where we appreciate a part of the coast trail and the amazing landscape of this bay.

The tour ends with your hotel drop-off in Ushuaia.