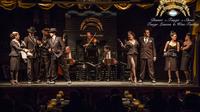 119 €
Tango Show and Lesson in Buenos Aires and City Tour
Enjoy the best dinner and tango show in Buenos Aires in La Ventana, with tango lessons and a previous bus city tour to see the best of this incredible and classic city of South America. A complete and exciting full-day tour that will give you a unique experience of this country.
First you will have a complete bus city tour in Buenos Aires, to see the following places:
9 de Julio Avenue
Colon Theatre
The Obelisk
Diagonal Roque Saenz Peña Avenue
Plaza de Mayo (here we make a top and visit Buenos Aires Metropolitan Cathedral)
San Telmo, Parque Lezama.
La Boca (guided tour around Caminito and craft fair, here you will have free time to take photographs).
Puerto Madero and Retiro.
Palermo (Palermo Woods and Galileo Galilei Planetarium)
Recoleta (Museo Nacional de Bellas Artes and Nuestra Señora del Pilar Church).
After, transfer to your hotel where you can rest until tango and dinner show in La Ventana. Once there, time to get a one-hour tango lesson with experts that will show you how to dance this classic rhythm. And, finally, an authentic Argentinean dinner and tango show.
An incredible and complete full day tour, at the best price. Book and let us arrange you with your itinerary in no-time!