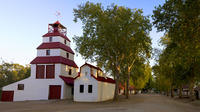 169 €
Tahbilk Winery and Wetlands Tour with Local Wine Ambassador Including Lunch, Wine Tasting and a Wine Making Class
Experience history, food, wine and wildlife on this full day tour of one of Australia's oldest and most historic wineries, Tahbilk. Enjoy a guided tour of the winery as you discover the wine-making techniques and practices by a professional Wine Ambassador. Sit back and relax as you take in the stunning wetland views and enjoy a delicious 2-course lunch paired with current and mature wines. Finish the afternoon accompanying your expert guide on a wetlands ecology tour.
Self-drive to one of Australia's oldest wineries Tahbilk. Established in 1860, Tahbilk is one of the most beautiful and historic family owned wineries located approximately 75-miles (120km) north of Melbourne.

Begin your day with a personally guided tour of the winery encompassing both the old and the new technologies utilized. Traditional red wines are fermented in the same vats that were used in the 1800's. But wine-making techniques change and improve with time. In addition to the historic winery, the modern winery employs up to date wine-making techniques and practices. There is no better winery at which to experience a history of wine-making. You can learn why some older techniques are still preferred and where new practices produce a better wine.

Following this you will learn the art of wine-making in the form of blending, the motto being that "the whole is greater than the sum of the parts". Guided by a Wine Ambassador you will start with individual wines and blend them to create a wine that is truly yours. A 750ml bottle of your blend will be yours to take away.

After all your hard work making your own blend you will no doubt be hungry for lunch! The Wetlands Café is perched overlooking the wetlands providing an ideal setting for a relaxed lunch with some fine wines. Enjoy a two course lunch created with the finest local produce and matched to pairings of current and mature wines. You will learn the characteristics of a wine when it is young and when it is mature. Two pairings, a white and a red will be presented by a Wine Ambassador who will explain the characteristics of the wines.

Finish the day with a Wetlands Ecology Tour accompanied by an expert guide who will walk with you through the wetlands trail and explain the restoration work that has been completed, the work being done to save the endangered species that live in the wetlands and the impact the ecological work has on the winery and wines.