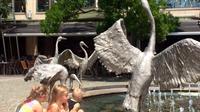 32 €
L'activité n'est pas disponible, essayez une autre recherche !
Sydney Walking Tour Including Hyde Park South and the Frazer Fountains
Take a walking tour of Sydney's most popular monuments and bustling piazzas including the Anzac Pool of reflection in Hyde Park South and the Frazer Fountains. A fun and educational tour for the whole family.
After meeting your guide at Museum Railway Station, make your way to the Anzac Pool of reflection located in Hyde Park South. Here you can take a moment to pause and remember the men and women who lost their lives during World War l. Opened in 1934, the construction provided jobs to those who were unemployed during the economic depression.

Next make your way to the Frazer fountains. The fountains were donated by John Frazer a wholesale grocer on York Street who used a large portion of his profits to educate those less fortunate. In the 19th Century, Frazer provided the City Council with the funding required to erect the iconic water fountains which provided the public with access to clean drinking water.

You'll also take in the stunning city landscapes and enjoy a fun filled couple of hours filled with activities for the kids such as stories and puzzles making this tour perfect for families. Make sure to bring your camera as you stop by iconic artworks and sculptures along the way before finishing your tour in Circular Quay.