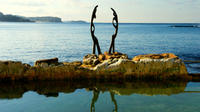 105 €
L'activité n'est pas disponible, essayez une autre recherche !
Sydney to Manly Walking Photography Tour
Join this small group photography walking tour and explore Sydney's iconic sea-side village of Manly, walk from the western harbor through to the stunning eastern coastline overlooking the Pacific Ocean. Discover the laid-back beaches of Fairy Bowers in Cabbage Tree Bay, walk through bush trails, discover public art, experience local beach culture and the hidden wonders of Shelly Beach; the only west-facing beach on the east coast of Australia. Your experienced guide is a professional photographer and will gently teach you new and easy tips and techniques to improve your photographer skills so you can take home a stunning visual representation of your experience of our beautiful city, harbor and beaches.
Travel is about discovery and your photographer guide understands how inspiring and exciting it is to discover a new city. On this photography walking safari you won't be overwhelmed with technical photography facts and information. Instead be lead as you discover new photography skills while enjoying a unique perspective of this beautiful city and its many undiscovered treasures.

Valuing the 'hands-on' learning approach your guide will show you the easy steps to master your camera's functions giving you insightful and tips to help capture Sydney's skyline and harbor en-route to Manly. Once in Manly venture beyond the village, sea-side cafes and stores to the hidden wonders of Cabbage Tree Bay and Shelly Beach with time and freedom to capture your own inspiring images. Discover easy ways to achieve stunning visual effects without the need to understand the complex photography theory. Your safari is limited to a handful of participants allowing almost one-on-one coaching.

This photography walking safari begins at Sydney's Circular Quay Ferry Terminal, in the shadows of the Sydney Harbour Bridge and Opera House. Embark on the charming Manly Ferry for a wonderful 30 minute cruise across Sydney Harbour to Manly on Sydney's North Head. Next, explore Manly from Sydney Harbour on the western side of the peninsular through to the Pacific Ocean on the east, walking and photographing sandstone cliffs, ocean pools, sculptural art, surfers, skaters, and perhaps the odd passing whale (possible in the winter months). Manly is famous for its ocean beaches and rich beach culture. Cabbage Tree Bay to the south of Fairy Bower is a marine reserve with crystal clear shallow waters that lap the shores of Shelly Beach with secret walkways and secluded rainforest parklands, wild headlands and stunning coastal vistas.

Look at ways to draw inspiration from what you discover through your lens and be shown how to use features like color balance and composition to enhance the power of your images. Every destination has its unique quality of light due to its geographic location. The quality of light and the direction of light will play an important part in photographing this laid back Sydney beachside village.

You will come away from this unique and memorable experience with some exciting new photography skills and a selection of beautiful images to reflect your own personal experience of our beautiful city.

Pleas bring either a DSLR, compact camera or smart phone. However, to achieve the most from this photography walking safari it is recommended you use a DSLR camera.

The following subjects will be covered:

Camera menus and settings
Develop your observation skills
Understanding light
Composition rules and tips
How to select the right lens / zoom
Aperture settings
Shutter speed settings
ISO settings
Color balance
Easy special effects