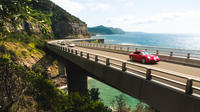 85 €
L'activité n'est pas disponible, essayez une autre recherche !
Sydney South Coast and Highlands Half-Day Porsche Tag-Along Trip from Helensburgh
Drive a selection of pure Porsche sports cars from a fleet of Porsche 911's and a Boxster on some of the worlds best driving roads south of Sydney including the Royal National Park, Sea Cliff Bridge and Grand Pacific Drive. This scenery half day-trip includes the rolling waves of the pacific, temperate rainforest and rolling green hills along the dramatic escarpment.
Your day begins with an overview and safety briefing of the Porsche fleet before climbing into the first of your four Porsches for the day.

Following your driver guide, you will roll straight onto uncrowded winding roads before descending through the winding canopy of the Royal National Park and bursting onto the clifftop over the blue waves of the Pacific. Morning tea, lunch and afternoon tea for two are are included and taken either on the cliff top overlooking the ocean or in the rolling green hills of the Southern Highlands at an historic hotel.

The return journey includes a mountain climb and descent followed by a winding drive along the ocean-side and over the top of the waves on the Sea Cliff Bridge.

This ultimate Porsche day-trip will give you the opportunity to explore hidden roads along the escarpment and highlands south of Sydney from behind the wheel of four handpicked Porsches including at least three Porsche 911's and a Boxster