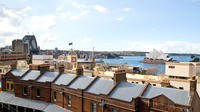 81 €
L'activité n'est pas disponible, essayez une autre recherche !
Sydney Harbour Photography Fun Walking Tour
Photography in Sydney is the best place to use your DSLR camera. This Sydney Harbour photography tour is an ideal basic DSLR camera class.Capture images of your time in Sydney in a crafted walk around the Harbour foreshore, The Rocks back alley ways, Garrison Church and scenic photographic vantage points. Simple, important camera functions and photo technique that will help you get the right shot. Its time to take the camera off AUTO and explore the benefits of other functions of your camera. This workshop is for the many, many people who don't want to be too technical but want their images to reflect the moment.
Our classes are carefully structured to progress the right elements to good photography. Photography is like a good recipe, each element in the right proportions. You will enjoy applying the theory in practical activities and hands on learning. Explore the scenery and history of one of the most picturesque city harbours of the world. With the assistance of an accredited photographer and trainer, walk the cobblestone lane ways, photograph the Sydney Harbour and the quaint character and architecture of the Rocks.

This 3.5-hour walk and learn tour ideal for travelers and those wanting to get the basics of how to use their camera better. It is a great balance of theory with practical photography as you walk around the Rocks and Sydney Harbour foreshore. Meet your guide outside the Museum of Contemporary Art at 9.30am. Suitable for any style of compact or digital DSLR camera.

Please bring your camera, fully charged batteries and a spare memory card.