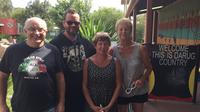 64 €
L'activité n'est pas disponible, essayez une autre recherche !
Sydney City and Indigenous Australian Cultural Experience Day Tour
The indigenous Australian has a long history of over 60,000 years, and rich in their culture of art and dreamtime stories that are inspiring. This day tour focuses on the pre-settlement era, you will learn about tribal areas, Aboriginal culture and the Sydney basin's local traditional owners (Darug tribe). Your guides will share with you the stories of our Aboriginal ancestors, and how their people learn to respect Mother Earth and the Lore. If you want to learn more about Australia's indigenous culture on your visit to Sydney, this is the tour you don't want to miss!
Here is a glimpse of activities you will experience, but there are plenty included on the day.

You will begin your Sydney Indigenous experience with a cultural talk that will explain the maps of Aboriginal Australia, the way of life and the protocols they live by. Showcased are the implements and weaponry traditionally used and how they are made, who, how, when and why they use them.

You will be guided on a Bush Tucker Walk and shown the native plants available in the local area. You will also learn about the food, medicinal and resource uses for each plant.

Try your hand at boomerang throwing. You will learn about the returning boomerangs, how they are made, how and why they are used. You, the visitor, can then learn to throw the boomerangs.

If you have never tried a Kangaroo, Crocodile or Emu in your life. This is your opportunity. What better way to try these while learning about the indigenous culture. Tasting menu is included as part of the tour package.

Your guide will walk you through the history and origins of the Didgeridoo. You will learn how they are made and also a demonstration of how they are played.

Dreamtime Stories – You will learn the meaning of the Dreaming and all that relates to it. We will have an interactive reading time with the opportunity to have a reflective discussion on each.

Painting workshops – You will learn the different painting styles of the some areas across Australia, and explain the differences between each. You will be given the opportunity to paint a small take home item which could be used to free express as an individual or to paint your own story given the meanings and symbols used.

To wrap up our tour, you will be given Sydney city introductory tour including visit to Redfern, a suburb of Sydney, known as the home to many aboriginal people and indigenous history.