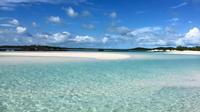 85 €
L'activité n'est pas disponible, essayez une autre recherche !
Sun and Fun Beach Day from Nassau
Experience tropical paradise as it's meant to be enjoyed in the Bahamas. Explore the beautiful beaches of Nassau accompanied by an experienced local tour guide. This 4-hour tour is all about having fun and giving you time to do exactly what you want. There are many beach activities, from partying at the local bars to playing beach volleyball.

You'll be gifted a complimentary souvenir, a bottle of cold water, hot lunch, a Bahamian beer, a shot and a map/itinerary. A Bahamas beach day is a perfect activity for couples or the entire family.
Your guide will greet all guests at the designated meeting area and give an overview of the fun-filled day tour ahead. Then, without further delay you'll be taken to the beach! Visitors can choose between partying at nearby cultural bars, swimming, playing beach volleyball or a range of other activities. You may also enjoy a quiet beach day of tanning and getting a massage (not included in price).

You will receive a hot Bahamian lunch accompanied with an ice cold Bahamian beer or water. You'll also get a complimentary shot of alcohol at a bar on the beach, with further beverages available at additional cost.