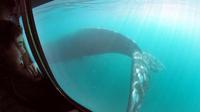 249 €
Submarine Whale-Watching Cruise from Puerto Pirámides
Go Whales Watching on board a Submarine and observe whales in their natural habitats!
This semi submersible Sumarine takes you to watch whales in complete immersion in their world, offering a panaramic sights through the 40 windows of the boat.
During 1h30, discover the whales' world with a unique point of view, almost like if you were diving amongst them!
Make your own way to the embarkation point in Puerto Piramides, and meet your guides who will accompany you on the submarine for the whole excursion. Get on board and start your sailing excursion towards the whale-watching site, a few minutes away from shore.
Appreciate the nice view on the outdoor deck, watching birds and curious dolphins getting close to the submarine. Or, you can go down to the submersed lower deck and watch the undersea world. Once you arrive to the whale-watching site, don't miss the opportunity to get down to the lower deck and observe the whales in their natural habitat, interacting with each other. While whales remain close to the submarine, watch them through 40 different windows offering a perfect panoramic view. Then, ascend to the upper deck to watch the whales from above, swimming and jumping.
The combination of submarine watching with the panoramic sights from the outdoor upper deck is an unforgettable experience! Head back to shore, where the 1.5-hour tour concludes at the original departure point.