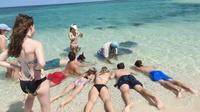 220 €
Stingray Snorkel Eco-Tour at Sandy Cay
Enjoy a Bahamian ecology experience that is simple, pure and natural! This 4-hour educational tour is designed for small groups and is the most requested eco-tour. The Stingray Snorkel Tour provides visitors the opportunity to snorkel with stingrays in their natural element. A trained guide will provide a briefing about the stingrays foraging habits and identify behavior traits of these magnificent wild animals. No touching or feeding of stingrays permitted on this tour. Round-trip hotel or harbor transfers included. Perfect for nature lovers!
The tour will begin with pickup from your Freeport hotel or cruise port. Tours are conducted in small and private groups (maximum of 6 guests) so that guests can have a memorable experience.

Guests will be provided with a briefing about the foraging habits and personalities of the stingrays. A possible visit from their largest stingrays "Big Bean and Big Brownie" will surely amaze everyone who snorkels with two of the most elegant stingrays of the group. The stingray snorkel portion of the tour lasts approximately 40 minutes. The area is also home to numerous bird species that are both endemic and migratory. Visitors may spot dolphins and sea turtles that frequent the shallow sea around the cay.

Visitors may have the opportunity to snorkel at Sea Biscuit Alley to collect shells or discover a sunken boat wreck in only 10 feet of water subject to weather and sea conditions. The wreck is filled with thousands of fish and marine life. Perfect underwater photography for nature lovers, and snorkelers!