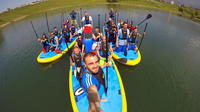 35 €
Stand Up Paddle in Farka Lake
You will be meeting the guides at Farka lake (20 minute drive from Tirana).
A short introduction for about 15 minutes will be organized in order to become familiar with the correct use of Stand up Paddle and the required equipment for this adventure.
Duration: This activity takes about 3 hours, including 1 or 2 stops for rests. 
If you need help for the transport, just tell us and we can organize it for you.
To have a sportive weekend and to explore something different from the capital of the Albania we suggest you Stand Up Paddle in Farka Lake.
Stand up Paddle Monster is a 16ft-giant-inflatable board that can float up to 8 people, all you have to do is stand up and paddle and have a lot of fun! Perfect for team building or grab a group of friends and get ready for some big laughs! No matter whether you are an experienced water person or a beginner, this guarantees great times and lasting memories.

This activity take place every Saturday & Sunday, very near of the Tirana city.