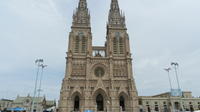 227 €
Shrine of Lujan and Gaucho Experience Private Tour from Buenos Aires
This tour will take you to the Shrine of Lujan and then to an out of the beaten track working Estancia to enjoy a real full gaucho Day with traditional BBQ and horse riding in a beautiful part of the Argentine Pampa.
This tour consists actually of two very different parts, which makes it attractive and cost effective since they are usually offered separately.
It is also unusual because the estancia you will go to is a working estancia, not a touristc one.

The Tour, which lasts around 10 hours, starts  from your hotel  at around 8am and takes you to The Basilica of Lujan after aproximately a one hour trip. The Shrine of Lujan is the second most important pilgrimage place in Latin America and the view of the Basilica upon arrival at the beginning of the Avenue is fantastic. The construction, hardly a century old, is stunning and has been a highlight of many travelers program for decades. You will visit the Shrine and the small town and continue on to the Estancia where you arrive at 11am.

The activities in the Estancia, which include a typical Argentinian "Asado" or BBQ , horse riding and contact with stallions. Martin , the owner ,will show you how he trains his horse for Polo and racing.  If you do not wish to ride a horse, there are other activities to engage in. 
It all  finishes at around 5-30pm but, before you leave, you will be served a 5o'clock tea , coffe or " mate"  along with local products.