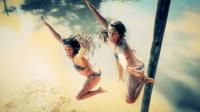 51 €
Short Sweeping Tigre Rowing Tour
Enjoy a rowing tour in Tigre, Buenos Aires. This is a wonderful way to experience such a magical place while doing a healthy, light and enjoyable physical exercise. Your small-group tour includes equipment and a local guide.
Only 40 minutes away from downtown Buenos Aires Tigre and Delta del Paraná await you. This place is unique for its lush jungle landscape reminiscent of tropical latitudes. On this tour, you will discover it on a rowing boat. This is a perfect opportunity to see this magical place while exercising and doing something healthy.

In sweeping each rower has one oar, held with both hands. As each rower has only one oar, the rowers have to be paired so that there is an oar on each side of the boat. This means you and your group have the fun challenge of synchronizing your movements!

This tour is great for families and people of all ages as no experience is needed. The itinerary is not fixed, since it is adjusted to your preferences and needs as well as the weather conditions. Experience Buenos Aires and Tigre in a different and unique way!

*NOTE: We strongly recommend you to experience Tigre during week days. Weekends are crowded and more expensive, that's why we have blocked weekends on our calendars. However, if your travel arrangements make this impossible, let us know and we'll make you a personalized offer for your dates and needs.