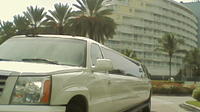 127 €
Shared Round-Trip Limousine Transfer to the Port Lucaya Market
Enjoy a luxury experience on Grand Bahama Island, with a Private limousine round-trip transfer to the Port Lucaya Festival Market Place, from your cruise port, departing every hour between 8am and 2pm. You can enjoy a comfortable, relaxing transfer to the market place for shopping, beaches, or the casino.
When you arrive on Grand Bahamas Island at the Freeport cruise ship port you will be picked up in a luxury, shared limousine with air conditioning.

The limousine will transfer you to the town center at the Port Lucaya Festival Market Town Center. In the Port Lucaya Festival Market Town Center, you will find beaches, a casino, fine jewelry, straw work, restaurants, bars, and the famous Count Basie Square.
With departures leaving every hour you don't have to rush to your shore excursions like everyone else! The limousine will carry 10 to 24 passengers. Departure times back to the cruise port starts at 12pm and ends at 4pm. The limousine will depart on every half hour from in front of Domino's Pizza in the Port Lucaya Market to return you to the cruise ship terminal.