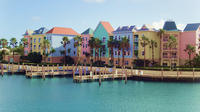 17 €
Self-Guided Audio Tour of Nassau
Download a vibrantly-narrated mp3 audio guide combined with a map detailing the area of your tour.
Immerse yourself in the historic and beautiful city of Nassau! Nestled in the Caribbean you'll be sure to enjoy the white sandy beaches and amazing weather. Revealing the main attractions of this exquisite tropical paradise, this audio tour will enrich your visit with interesting snippets of history and quirky facts as well as introducing you to some of the city's hidden gems. Whether it is your first or tenth time in the islands' capital, this tour is guaranteed to enlighten and entertain you, showing you a side to Nassau that you never knew existed, all at your own pace.
On this self-guided audio tour you will learn about Nassau's pirate history and its cargo smuggling days at the Pirates of Nassau Museum. You will surely feel like a kid again as you explore. You'll also take a peaceful walk and get a view of the iconic Atlantis Paradise Resort and Christ Church Cathedral. From a library that was once a jail to a one-hundred foot hand-crafted staircase, Nassau has an abundance of fascinating sites which reflect its tumultuous history. Visit Fort Charlotte, Blackbeard's tower and Rawson Square to get a feel for the culture and history. You will learn that over the years, this tourist destination has seen tribal warfare, world-renowned explorers, swashbuckling pirates, alcohol smuggling, race riots, fabulous Junkanoo festivals, internationally-acclaimed resorts and much more. You will also see Bay Street where you will learn about the 1942 Riots, the Nassau Public Library and Museum, the Queen's Staircase and the iconic Senor Frogs. There is also an optional addition to see Fort Fincastle.