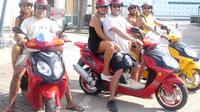 114 €
Scooter or ATV Tour of Nassau
This tour offers a unique two hour guided scooter or ATV tour of Nassau, the most amazing island of the Bahamas. You are given a first hand experience in the drivers seat. This 2-hour tour caters to the traveler who seeks a unique sightseeing experience and has an appreciation of scooter or ATV culture. This is the only Scooter and ATV tour offered in Nassau.
Your tour starts in either the morning or afternoon at the tour office on Sands Road. Drivers must be at least 21 years old with a valid driver's license.

After an orientation to your scooter or ATV, set off around the eastern part of the area to see historical and cultural sights. This is one of the most comprehensive and fun ways to explore Nassau while getting a feel for the vibrant energy and flavor that is unique to New Providence Island. There is no better way to get around than by scooter or ATV.
 
Your tour is guided by an experienced driver and includes stops and drive-bys at the following locations: Fort Fincastle, the Queen's Staircase, the Straw Market, Atlantis, and Government House. Then end your tour with a full Bahamian lunch with a beverage at one of the oldest Bahamian-owned restaurants in town.