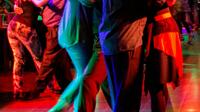 93 €
San Telmo Neighborhood Tour with Tango Lessons
Immerse yourself in the culture of Buenos Aires while on this 6-hour tour. Learn the dance of passion - the tango, taught by professional local dancers. Tour the neighborhood of San Telmo, an area where tango was born and raised, before witnessing a special performance with a live, vibrant tango orchestra and enjoying delicious snacks and beverages. This is the ´Sunday Special´ tango experience.

Begin the night once you meet your guide and group at the famous Mafalda statue in the San Telmo neighborhood. The guide will begin to tell you the history of tango, through stories, song and dance as you wander through the area. Visit one of the most characteristic and popular social dance events to witness the delightful typical dance of Porteños.

Next, savor the flavors of one of the best known "Parillas" and it's delicious Argentine meats. A vegetarian option will be available if you so choose. Continue the tour to a second porteño milonga, where the tango dancers place their passionate dancing on display. Enjoy learning the basics of tango along with tourists and locals in a relaxed environment. In addition to the lessons, enjoy listening to one of the city's most renowned live tango orchestras. Witness a special performance by an expert tango couple. Be prepared to be inspired by this authentic culture.