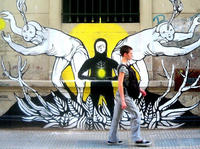 46 €
L'activité n'est pas disponible, essayez une autre recherche !
San Telmo Art and History Walking Tour
Enjoy a 3 to 4-hour walking tour of the neighborhood of San Telmo. Learn about the history, art, architecture of one of Buenos Aires' oldest and most Bohemian neighborhoods.
San Telmo is the oldest and most bohemian barrio in Buenos Aires.The San Telmo Art and History Walk will explore the neighborhood's past and present through its art and culture. Learn about the history of Argentina and San Telmo beginning from its Spanish colonial origins through the Dirty War of the 1970s and into modern day culture, all shown through the painted walls, historic buildings and contemporary art scene that make San Telmo such a unique barrio.

From the settling of the country, epic battles against foreign invaders and fierce local tribes, yellow fever epidemics and military dictatorships, the walls of San Telmo have seen it all. Explore the stone streets and absorb the eclectic mix of art, architecture, shops, and sights in this bohemian neighborhood.

As you walk through the streets, you will also walk through time, tracing back the history of the country, and discovering the many cultural elements that were born in this neighborhood. You will see street art by some of Buenos Aires' most prolific artists, and talk about the architecture, literature and tango that make San Telmo such a beautiful place.

This is a 3 to 4-hour walking tour that moves at a comfortable pace, and stops often. No food or drink is included, but there will be opportunities to have a coffee, or try one of Argentina's most delicious sandwiches, a bondiola, at one of the best sandwich shops in town.