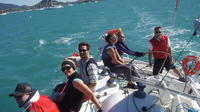 114 €
Sailing Lessons on Sydney Harbour
Experience the magic of sailing on Sydney Harbour in comfort and style as you hop aboard a race tuned yacht. Steer the yacht, trim the sails, or just relax whilst you learn the ropes on this three hour lesson in a safe and controlled manor. This must do experience will keep you entertained throughout the afternoon and is the perfect opportunity to see the sites of Sydney Harbour as you sail in style.
If you've always wanted to try yachting but haven't built up the courage, this is the perfect opportunity for you! Perfect for beginners as well as experienced sailors, this 3-hour session will teach you the ins and outs of this incredible sport.

Enjoy the fresh sea air and sunshine as you sail across the harbour.

Briefing
The lesson begins with a short safety briefing and an explanation of the basic parts of the yacht, as well as use of clutches, winches, halyards and sheets.

You go on to learn how to hoist and trim the sails, sail across the wind, helm the boat on different points of sail and to tack and gybe.

Apres sail
Apres sail refreshments are available in the waterside bar at Middle Harbour Yacht Club (own expense).

Enjoy this fun filled experience as you sail the Sydney Harbour. The perfect opportunity to also see some of Sydney's iconic attractions.