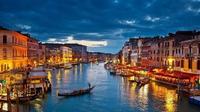 108 €
L'activité n'est pas disponible, essayez une autre recherche !
Romance in Italy Cooking Class on the Sunshine Coast
A fusion of fresh Australian ingredients, combined with classic Italian recipes. During the cooking class you will learn to cook oysters with a variety of dressings, macadamia nut pesto chicken with fettuccine, Italian salad with balsamic vinaigrette and Demi's famous tiramisu.
Classic Italian meals are all about fresh ingredients. Superior Australian produce and classic Italian recipes combined together by the instructors will make the best Italian meal you have ever had. This menu is perfect to make together with your partner, or make for your date who might just become your partner after they see how well you can cook an Italian meal.

During the cooking class you will learn to cook oysters with a variety of dressings, macadamia nut pesto chicken with fettuccine, Italian salad with balsamic vinaigrette and Demi's famous tiramisu.

You will have the chance to use the "tools of the trade" in an environment to rival any top restaurant or cooking show, set up with your learning and entertainment in mind.

You will receive a hard copy of all the recipes, that will allow you to recreate the dishes for your friends and family and have a day/evening of unforgettable fun without even having to do the washing up. You will then sit down in the relaxed dining area, to enjoy the dishes you have just made, with a complimentary glass of wine or beer.

*Please ensure that you are wearing enclosed shoes, and have long hair tied back