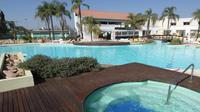 75 €
Rio Hondo Hot Springs Full Day Tour from Tucumán
Starting with a little car trip from San Miguel de Tucumán, enjoy a 7 hours excursion visiting the most famous hot springs in Argentina. Relax in a spa day with the mineral water properties and benefits. Take a walk through the waterfront, the frontal dike and the mall. Play at the casino and come back to your hotel after an unforgettable day.
Start your trip with the pick up from your centrally located hotel in Tucumán. After 85 kilometers by car, you will discover the different landscapes of Santiago del Estero province.

Enjoy the healing warmth of the hot springs, that have global and medical acceptation as a natural way to improve the general physical conditions of the body. Then take pleasure of the irresistible aroma of grilled Santiago del Estero Chivito and have some fun at the casino.

All these items make Rio Hondo Hot Springs an incomparable attraction, the most important thermal center of the country, with its renewed waterfront and the mall.

The trip ends with your centrally located Tucumán hotel drop-off.