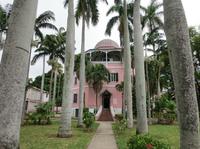 15 €
L'activité n'est pas disponible, essayez une autre recherche !
Rawson and Parliament Square Historical Tour
The Bahamas is a unique work of art, complete with state of the art beaches and a beautiful vacation destination. But have you ever wondered what makes this country tick? Who are the important leaders, past and present? And what made it the country it is today? This 30-minute, interactive tour takes you through the ins and outs of Bahamian leadership including the House of Assembly, Senate and other very important features of this country. The tour guide will greet you in front of Sir Harry Oakes Fountain where the tour departs.
This tour is both budget and family friendly. You and your kids will enjoying learning about a new country and how it operates. You will be greeted by a tour guide at Sir Harry Oakes Fountain. The guide will lead you to both squares along with the Queen Victoria statue, the Senate, the House of Assembly, the Garden of Remembrance, the Nassau Public Library, Sir Milo Butler statue, the national tree and more. This is a very interacting walking tour. Each monument or place of interest will excite you and fulfill you will more information than you could have possibly expected.