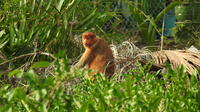 42 €
Proboscis Monkey River Safari
A great tour for the wildlife enthusiast. Brunei's mangroves are full of rare and exotic birds and animals that can only be found in Borneo. A local guide will navigate you through the narrow mangrove channels, explain the complex ecosystem and help you to spot shy wildlife hiding among the trees branches.
Just minutes from the center of Bandar Seri Begawan are isolated mangroves where nature still dominates.

The boat leaves the center of Bandar, traveling past the old and new Water Villages housing towards the mangrove-lined waterways. Moving quietly along the narrow mangrove channels, stopping to listen and look for the birds and animal life that call the mangroves home. If you are lucky you can observe the shy proboscis monkey. (Only found in Borneo) Our guide will explain the mangrove ecology and some of the diversity of plant and animal life in the tangle of mangroves, vines, palms and trees. The boat returns to the center of Bandar Seri Begawan stopping along the way to visit a local house to have morning or afternoon tea.