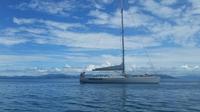 2 €
L'activité n'est pas disponible, essayez une autre recherche !
Private Whitsundays Sailing Charter from Airlie Beach
Spoil your group with a private sailing charter on 'Merit', a Volvo 60 ocean racer. Experience the best sailing and snorkeling the Whitsundays has to offer as you depart Airlie Beach on this 7-hour sailing charter for up to 24 guests.
By chartering 'Merit' for your group you have the option to design your day. Your captain will take you almost anywhere within the Whitsunday Passage. 'Merit' is a performance sailing vessel and you won't often have the opportunity to experience anything like it. Made of Kevlar, she's light and responsive.

Departure is at 9am at Abell Point Marina. You can arrange to travel to either Blue Pearl Bay, Langford Reef or other locations depending on the weather conditions. When the wind's up, make the most of the sailing machine you're on as she moves beautifully through the water! On quieter days, enjoy the sun on the deck. Drop anchor for up to four hours and discover the Whitsundays' lesser-known treasures, snorkeling with hundreds of varieties of fish around the spectacular coral.

You're welcome to get involved in the sailing and learn as much as you like about the vessel, or just sit back and relax while others do the work!

You'll return to Abell Point Marina by approximately 4pm. The sailing charter is licensed so you are able to bring your own food and drinks.