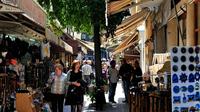 172 €
Private Walking Tour of Nicosia
A private excursion for individuals or groups of up to 10 persons. Let a professional licensed guide show you the last divided capital in the world - Nicosia, Cyprus. In Greek, Nicosia is known as "Lefkosia."
The heart of the city, within the 16th century Venetian Walls, has a number of interesting museums and art galleries, Byzantine churches and a number of mediaeval and neo-classical buildings while the narrow streets retain the romantic atmosphere of the past.
 Nicosia is probably the only area in Cyprus that can boast continuous habitation since the beginning of the Bronze Age, 2500 BC, when the first inhabitants settled in the fertile plain of Mesaoria.
 Nicosia had probably become the centre of administration and the island's capital in either the 9th or 10th century. It had acquired a castle and was the seat of the Byzantine governor of Cyprus.
 With a history exceeding  4500 years, Nicosia's major landmarks are best seen on foot. Let us guide you through the cobbled narrow streets of Laiki Yitonia with its unique handicraft shops and workshops and its colorful kafenions (coffee shops). Follow the island's turbulent history of 10,000 years in the remarkable Archaeological Museum. Admire the amazing Frescoes in the Cathedral of St John and marvel at the numerous Byzantine Icons exhibited in the Cultural Foundation of Archbishop Makarios the III with its Byzantine Museum.