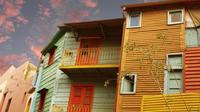 106 €
Private Tour: South Buenos Aires City Sightseeing
Buenos Aires is a dynamic, sophisticated and overwhelming city. On this tour, you will visit the main sights and landmarks of the southern part of the city including iconic neighborhoods and buildings. See the exquisite combination of a European atmosphere and the charm of Latin American cities. This tour will introduce you to the city's architecture, history, culture and secrets.
You will begin this journey at the historic downtown area. Here, you will see the recently refurbished Teatro Colon and head to the main square known as Plaza de Mayo. This is the epicenter of social demonstrations and historical events of Argentina. Surrounding it, you will see Casa Rosada, the Metropolitan Cathedral, where the remains of General San Martín rest and the Cabildo (old city council).

Moving southwards, you will enter the San Telmo and Monserrat neighborhoods, filled with old colonial houses and narrow cobblestone streets. You will continue to La Boca where you will learn about the old harbor of Buenos Aires and the stories of millions of immigrants, especially Italians. You will visit the famous street of "Caminito" and an open air museum about Tango, art and history.

Finally, you will head to Puerto Madero, the most modern and newest of the porteño neighborhoods, where you can admire its eclectic architecture and buildings facing the river. Your tour ends with hotel drop-off.