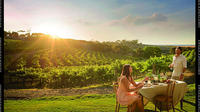 321 €
Private Swan Valley Tours by Luxury Vehicle from Perth
Experience the ultimate in personalized luxury touring. This tour begins with a meet and greet on your hotel doorstep before heading off on the short trip towards the Swan Valley, just 25 minutes away. Enjoy the best wineries, breweries, distilleries, restaurants, and local producers of chocolate, honey, nougat, coffee, ice cream and cheeses. Between your stops, relax in your chauffeured luxury vehicle while enjoying your favorite Spotify music on the stereo. It simply doesn't get any better than this. Travel like a rockstar!
A range of tours to suit you 
If you're having lunch in the valley, the 8-hour full day tour is recommended. You're going to have so much fun, that time will fly by.  A shorter 6-hour and 4-hour private tour is also offered. Visit as many wineries, breweries, distilleries and local food offerings as your time allows. Each private tour experience is very flexible, allowing you to set the pace and the number of venues visited.
Travel like a RockStar
The day starts with a meet and greet on your hotel doorstep before heading off on your short trip towards Swan Valley. It's only 25-minutes' drive to the Swan Valley.  Compare that with the Margaret River region, which is a 4-hour drive each way!!  Relax in your luxury vehicle as you travel like a Rockstar.  The vehicles carry up to 4 passengers in comfort and there's lots of room for your bags and purchases. A big cooler box for your drinks and chocolates, just in case it's a warm day will be on board. The Range Rover lets you sit up high so you get a great view of the surroundings, but it's also height adjustable too, so very easy to get into. Being a 4WD, it goes anywhere in the valley, which is handy if you choose to include Bells Rapids.
So many attractions, so close
Because everything in the valley is so compact, you'll get to visit lots of wineries, breweries, distilleries and attractions. Some places are literally 2 minutes apart. If you're unsure where to go, your driver/guide can offer recommendations on the best places. With expert knowledge, your guide will direct you towards the freshest coffee, chocolate, honey, nougat, nuts, and local cheeses. There's also lots of sightseeing, wildlife and art galleries.  Include the Wildlife Park if you like Koalas, Kangaroos and Wombats. The beauty of a private tour is that you can change the plan as you go, depending on how you feel.
Hand crafted itineraries
If you have some favorite things in mind please let your local operator know, so they can craft an itinerary around those places.