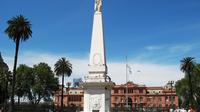 85 €
Private Small-Group Full-Day Buenos Aires Walking Tour
Buenos Aires is often called the "Paris of South America" for its varied architecture, sidewalk cafés, European heritage and traditions. Explore the city on this 6-hour guided walking tour. Visit the most famous highlights of the city including Plaza de Mayo, the Government Palace (Pink House), the Metropolitan Cathedral, the obelisk, Colon Theatre (outside), 9 de Julio Av., Mayo Av.

Then move to San Telmo, the oldest district plenty of antique stores, followed by a visit to La Boca and stroll around the colorful street of Caminito where tango started 150 years ago. After resting a little in any old and traditional bar, go toward north to the Recoleta area to admire the famous cemetery, and the luxury mansions. By utilizing public transportation and mixing with locals you and your small group will come to understand the particular lifestyle of the Argentine people.
Your guide will meet you at your hotel in the morning at 9am and take you to Plaza de Mayo. This square is a symbol of the city, not only for the beautiful architectural buildings around it, including the Metropolitan Cathedral, the Pink House and the Cabildo, but also for having been the stage for important historical events, from independence to demonstrations for the desaparecidos, or "the disappeared", during the last dictatorship.

Walk around the square while your guide tells you about Argentine history, the economy and politics. See the government house, Casa Rosada. Discover the reason of its color and watch the famous balcony from where both Evita and Perón used to give their speeches. Visit the Cathedral, where Pope Francis used to give mass and admire the Mausoleum of General San Martin, considered a national hero for being the liberator of three countries in South America.

Depending on your interests, the guide can take you either to the northern area of the city, Recoleta, or the southern area of La Boca.

If you choose the first option you will be taken by bus to Recoleta, walking by avenues with plenty of French mansions, which gave Buenos Aires the nickname "Paris of South America". Enter the cemetery and hear about the story of Evita´s body. On weekends there´s a popular handicraft market.

If you go for option two, you will be taken to La Boca and Caminito, the first port of Argentina, where the tango was born. Everything here is connected with tango and soccer, the two main passions of the Argentinians. Walk along the colorful streets and visit a conventillo, the old houses made in corrugated iron, painted in every color where immigrants once lived. You can also visit the famous Boca Juniors Stadium; admission tickets are not included in the price.

The tour ends at 3pm. You can go back to your hotel or, if you prefer, a shopping mall or restaurant.