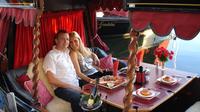 278 €
L'activité n'est pas disponible, essayez une autre recherche !
Private Romantic Gold Coast Gondola Dinner Cruise for Two
Dine with your special someone in the romantic ambiance and setting of your own exclusive private luxury gondola while cruising the majestic canals of the Gold Coast, no need to travel all the way to Venice! You'll glide smoothly through the canals of Main Beach and Surfers Paradise in comfort and luxury in an elegant gondola piloted by your own expert gondolier.
Although inspired by the Venetian ceremonial gondolas, these gondolas have been specifically designed and built for Australian conditions while providing their customers with total privacy and the ultimate in comfort and luxury. Unlike the Venetian gondolas, these gondolas are constructed of fibreglass with a fixed weatherproof cabin with has a rigid soundproof fibreglass panel separating the Gondolier from yourselves, thus affording you absolute privacy.

The elegant and distinctive cabin interiors surround you in comfort and luxury as you sink into plush sheepskin covered seats. The dining table is beautifully appointed and includes table flowers, candle lantern and ice bucket. A chilled bottle of sparkling wine will be on ice for you upon your arrival. Once seated your glasses will be charged and your mains and desserts will arrive from the restaurant and be placed on the dining table and your gondola will then depart for an experience all call "Amazing".

An on board stereo system provides a carefully selected range of romantic songs and melodies compiled from a variety of CD's. A volume control knob is situated in the cabin which allows you to adjust the volume to suit your preference.

After 90 minutes of romantic enjoyment, your gondola returns you to your starting point to end your cruise.

Sample Menu
Main Course Options:

Chicken parma - baked breaded chicken breast fillet with Nopoli tomato sauce and mozzerella, served with chips (French fries) and salad
Chicken Caesar - Cajun chicken, romaine lettuce, grilled bacon, flaked parmesan & garlic croutons
Lemon Pepper Calamari - shallow-fried and lightly seasoned with chips
Sesame-crusted salmon - Atlantic salmon, rocket (arugula), Spanish onion, avocado and capsicum coulis (thick sauce made from mild red peppers)
Cold Seafood - Fresh Prawns, smoked Atlantic salmon, oysters, salad and seafood sauce
Thai beef salad - peppered beef, greens, sundried tomatoes, green beans, cashews, soy sauce and ginger
Vegetarian fettuccini - pasta with sauteed onion, mushroom, cherry tomatoes, baby spinach and parmisan in a roaster tomato Napoli sauce
Dessert Menu
Sticky date pudding - with toffee sauce and whipped cream
Double chocolate mud cake - with whipped cream
Apple crumble pie - with cinnamon and whipped cream
NOTE: Menu Choices are required by at least 10am on the day before your cruise departure date.