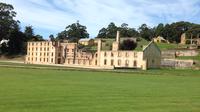 118 €
Private Port Arthur Historic Site Day Trip from Hobart
Take a private, luxury and fully personalized day trip to the Port Arthur Historic Site for a trip back in time to another era. Explore the Tasman Peninsula for a full day. Enjoy the breathtaking views of the Pirates Bay Lookout, Tasman Arch, Devils Kitchen and the Blowhole.
Departing Hobart taking in the vast areas of nature along the way, which includes driving through the small town of Sorell, pass by where a major fire ravaged the landscape and the town of Dunalley in 2013.

Arrive at  the Pirates Bay lookout, where there is ample opportunity for plenty of photos. Then its on to the Devils Kitchen for more photo opportunities and a short 5-minute walk to the Tasman Arch for more breathtaking views.

Enjoy some time at the Blowhole where lunch can be bought during the summer months (during the winter, lunch will be at the Port Arthur Historic Site). Once arriving at the Port Arthur Historic Site the ruins can be explored with a 20-minute harbor cruise along the way.

Enjoy a relaxing trip back into Hobart where your journey ends.