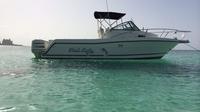 358 €
L'activité n'est pas disponible, essayez une autre recherche !
Private Nassau Historic Harbor Cruise Plus Beach Visit
This scenic tour takes you through Nassau's historic harbour, where you can view the mansions and private yachts on Paradise Island
Enjoy a unique experience cruise the famous Nassau Harbour and our beautiful historic city, some of the most famous sites include the waterfront cabana from the James Bond movie "Thunder Ball," Potter's Cay Dock with food and mail boats, and the glamorous homes of the rich and famous on Ocean Club Estates Paradise Island. The boat will also pull up to a beach for a quick dip in the crystal clear water.