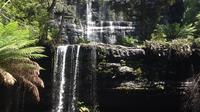 122 €
Private Mt Field National Park Day Trip from Hobart Including Salmon Ponds and Bonorong Wildlife Sanctuary
Take a private and fully personalized,  luxury day trip along the Derwent River through the delightful town of New Norfolk, through to Mt Field National Park. A short 10-minute walk to the Russell Falls for a beautiful photo opportunity. Feed the fish at the Salmon Ponds and see a fish frenzy. A lunch stop at New Norfolk then a visit to Bonorong Wildlife Sanctuary to see native Australian animals.
Your personalized driver guide will take you for a journey, through the northern suburbs of Hobart and then following the contours of the Derwent River through to the delightful country town of New Norfolk and winding past the hop fields of Bushy Park. Mt Field National Park will appear on your right after about 1-hour into your tour.

After a short 10 minute stroll along a sealed pathway, admiring the tall swamp gum forest and observing massive tree ferns, Russell Falls can be heard in the distance as approaching. A beautiful photo opportunity will open up in front of your eyes, allowing you to capture this memory with your group.

Continuing on your day, a picturesque 30-minute drive will take you to the Salmon Ponds where you can feed the fish and see a fish frenzy.

A lunch stop at Brighton's Best Bakehouse will be enjoyed before a visit to Bonorong Wildlife Sanctuary, arriving at approximately 1:45pm. Here, you will be able to meet the wombats, watch the Tasmanian devils being fed, say hello to the koalas, feed the kangaroos and see many other Australian animals.

You will then be returned to your requested drop off location in the Hobart area.