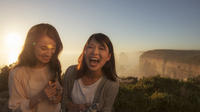 540 €
Private Luxury Great Ocean Road Day Trip From Melbourne with Local Whisky Distillery Tasting and Seasonal Gourmet Meals
Dare to be different and unveil the spoils of true once in a lifetime luxury. A new era in Great Ocean Road private touring awaits to indulge your every desire. Experience the unmatched luxury and undeniable appeal of your like nothing else Hummer H3 transport. Embrace it's lavish interior and sense it's thrill for adventure. Come behind the scenes and embrace an affair that encourages you to touch, taste and be inspired by the hidden gems of the Great Ocean Road. This is your backstage pass to one of the world's most breathtaking coastal touring routes. Savor some of the region's most mouth watering flavors. A hidden railway shed distillery will impress the finest of whisky and food connoisseurs. Venture well beyond the scenery and escape the crowds. Welcome to an adventure like nothing else, welcome to the first-class adventure you deserve.
Releasing you from the city shadows of Melbourne, your luxurious Great Ocean Road private charter gifts you a truly unique experience. A rare backstage pass to discover the finer experiences of one of Australia's most breathtaking regions at your own pace.

Taste the adventure as you savor the Great Ocean Road's affection for gourmet food. Fresh and seasonal cuisine in idyllic locations add to your true mouth watering experience. A delicious countryside cafe morning tea, an indulgent farm to plate lunch and a one of a kind guided spirits tasting at a secluded Great Ocean Road whisky distillery will awaken your taste-buds like never before.

No Great Ocean Road experience is of note unless you witness the breathtaking landscape of the world famous limestone colossi, the Twelve Apostles. Towering above the powerful Southern Ocean below these natural wonders, millions of years in the making, are sure to leave you speechless. Visited during the quieter hours of the photogenic morning light your once in a lifetime 12 Apostle's experience is designed to not get you lost in the crowd.

Complimenting your 12 Apostles high, your Great Ocean Road experience includes the much admired and must see stunning coastal oasis, Loch Ard Gorge. A time to kick of your shoes and excite at the sensual feel of the soft sand under your feet. Discover it's beauty, learn it's dramatic history and be mesmerized by it's stunning beauty.

Marvel at the ancient past as you experience what echoes a land before time at The Great Otway National Park. A vibrant and invigorating cool temperate rainforest region that will leave you speechless.

Sense the thrill of adventure as you travel off-road in search of Australia's famous wildlife in their natural surroundings. Kangaroos, koalas and even whales are all possible encounters throughout the pristine wildlife sanctuaries of the Great Ocean Road.