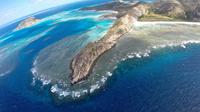 1 €
Private Lizard Island Day Trip and Great Barrier Reef Scenic Flight from Cairns
View the Great Barrier Reef both from the air and up close on this scenic flight and Lizard Island day trip from Cairns. Fly to Lizard Island, snorkel amongst the coral and clam gardens, have a sumptuous picnic lunch, climb to Cooks Lookout. You private tour includes free snorkel, mask and fins for the day together with the use of an underwater camera if you wish.
Take a one hour scenic flight from Cairns to Lizard Island. Follow the Great Barrier Reef along the outer reef past Green Island and the well visited reefs like Michaelmas Cay and further north. Being a long way off-shore, these reef are pristine. You will be impressed by the size of the reef in a way few other people understand, in the air fly you'll fly over the 275km of reef stretching over 2500km along the coast of Australia.

On arrival it's a short walk to the sparkling white sands of Watsons Bay. Don your fins and mask (supplied for you) and it's a short swim out to the nearest coral and clam gardens. Colourful fish abound and turtles can often be seen cruising the shallow waters. Get the ultimate selfie with your underwater camera (supplied) frolicking amongst the coral, your friends will be envious!

Having worked up an appetite enjoy a delicious gourmet picnic lunch (supplied by the Stratford Deli in Cairns). Enjoy more snorkeling or just sleep off your delicious lunch under the shade of a weeping Casurina tree on the edge of the beach or take a walk to the top of Cooks Lookout and see for yourself what the pioneering navigator saw, the route to escape the clutches of the reef that nearly destroyed his expedition in 1770.

Departing at approximately 4:30pm you'll fly back along the coast taking in the stunning sunset. It's an hour and ten minutes back to Cairns as you follow the coast past Cooktown, Cape Tribulation, the Daintree, Port Douglas and back to Cairns where you will be whisked back to your accommodation for a well earned rest.