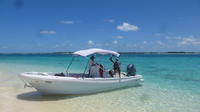 181 €
L'activité n'est pas disponible, essayez une autre recherche !
Private Half-Day Nassau Snorkel and Sightseeing Cruise
Explore Nassau on an enjoyable boating experience that gets away from the every day life. Your captain and staff is dedicated to providing great fun and entertainment. The tour begins with a cruise through the beautiful Nassau Harbour in your own private boat. On the way to sea gardens there are many attractions to see! When you arrive at the sea gardens you will enter the turquoise crystal clear waters where the tropical fish give you a close and friendly encounter!
The tour begins with a welcoming pick up from the pier and ferry terminal where you will meet captain before the tour sets sail. There are a number of attractions and historical monuments that will be described with a brief synopsis on the way to the sea gardens.The captain becomes a personal tour guide giving full details of the attractions and some background information about each area.
The captain continues on with guests to the island where the sea
garden
is located. The anchor will be dropped and the necessary gear will be provided for snorkeling. All guests will be sized up, assisted with gear and helped into the water. After assisting guests the captain will remain on board to keep a look out for all guests for safety reasons. Once the time limit has passed for snorkeling you will be given assistance back on board the boat, and you will be taken to a beach for the remainder of their tour.
Enjoy the beauty of the beach and continue to use the snorkel gear while searching for priceless
treasures
such as seashells, sand dollars and sea biscuits. Most people enjoy just walking in the white, powdery sand and laying out to get sun rays. After your time at the beach you will board the boat again and head back to the pier.